My Paths tend to be straight on and forward or have a gentle swoop off to the right before straightening out. Most of my favorite photos have umbrellas of leaves, branches and big sky. The influence of nature as a source of inspiration is inseparable from my vision of the world.
Deborah Reidy's Path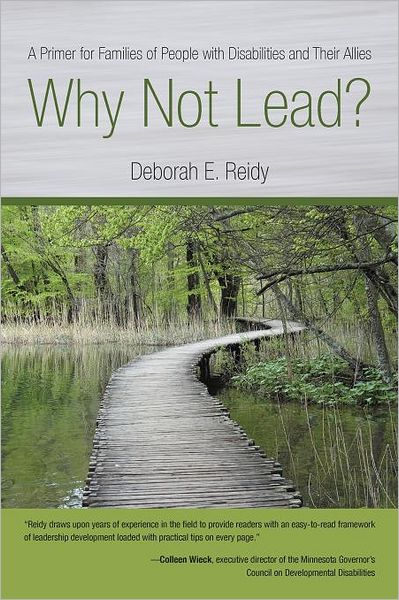 Leadership can be exercised by anyone who cares enough. You don't need to have a title, be charismatic, or even have confidence. You just need to be motivated to make a difference in the lives of people or causes you care about. In Why Not Lead? author Deborah E. Reidy provides a practical and accessible guide for families of people with disabilities and their allies who are motivated to bring about positive change and who are looking for guidance on their journey.

Drawn from decades of experience, Why Not Lead? uses a combination of case studies, short narratives, and personal exercises to provide an understanding of what leadership is, to assist in strengthening your motivation, and to deepen your understanding and application of core leadership practices.
I have the utmost respect for her accomplishment and urge any readers who have interest in the field to pick up a copy.
://www.barnesandnoble.com/w/why-not-lead-deborah-e-reidy/1110476083?ean=9781462047628 http